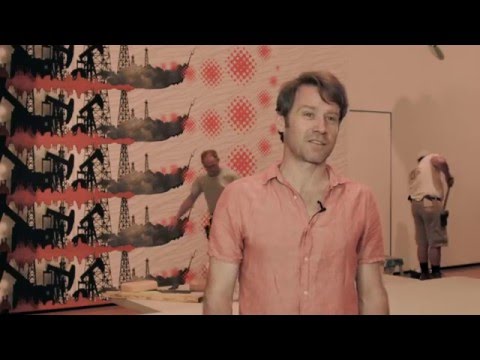 Charles Beneke, Plume, 2013. Laser cut paper, 24 x 36 in., Courtesy of the artist.
Charles Beneke, Splendor, (detail), courtesy of the artist.
Charles Beneke, Particles (detail), courtesy of the artist.
Charles Beneke, Element Air Currents (studio view), courtesy of the artist.
Charles Beneke, Studio Image, courtesy of the artist.
Charles Beneke: Specter
August 1, 2015 - January 3, 2016
Judith Bear Isroff Gallery
"Specter is a massive installation that turns prints into sculpture while underscoring art as activism. It marries antique and modern with success that isn't cliché or overreaching."—Tiffany Elena Washington reviews Charles Beneke: Specter for ArtHopper
Specter, an installation by Charles Beneke, a Professor and Printmaking Area Coordinator at the University of Akron's Mary Schiller Myers School of Art, offers pleasure in its lush surface decoration as well as a stark reminder of our penchant for excess and its impact. Printed surfaces will accumulate in the Isroff Gallery as a figurative parallel to the human-made accumulation of carbon and greenhouse gas that endangers our planet. Beginning as conventional botanically-patterned wallpaper, Specter will morph into a linear graphic as it climbs an upward slope. Irregularity will yield to ordered repetition and forms will reference both the direction of the prevailing winds in Northeast Ohio and diagrams that chart rising levels of atmospheric carbon. As the form reaches a visual crescendo, it will begin to spiral onto its self with cyclonic, vortex-like force, snaking across the gallery. Visitors to Specter are encouraged to reflect upon and modify their actions by being asked to Trade Your Carbon for Art, exchanging a behavior that harms the earth for a take-away print that reminds them of their promise and the magnificent installation.
This exhibition is organized by the Akron Art Museum and supported by the Margaret Clark Morgan Foundation.

Related Links:
[
Anderson Turner, Akron Beacon Journal, "'Specter' at Akron Art Museum portrays impact of climate change"
] [
Roger Durbin, Knight Foundation Arts Blog, "Charles Beneke's 'Specter' on display at the Akron Art Museum"
] [
Christina Day, Curatorial Collective, "Charles Beneke's 'Spectre' questions waste in a big way"
]