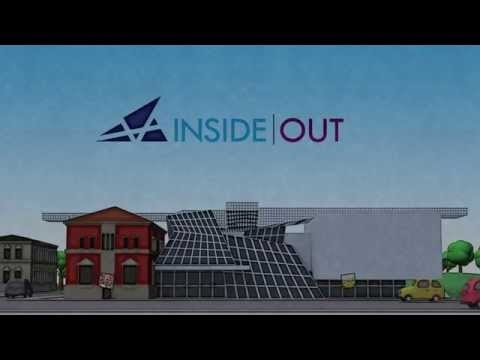 Raphael Gleitsmann, Winter Evening, c. 1932 Oil on fiberboard. 39 x 44 in. (99.06 x 111.76 cm). Gift of Joseph M. Erdelac 1981.26
Search #insideoutakron using social media to find posts about Inside|Out in Akron, Ohio.
Installation view of Raphael Gleitsmann's Winter Evening on Main Street, downtown Akron, December 2014.
Inside | Out
November 21, 2014 - April 21, 2015
The Akron Art Museum is bringing its collection out of the galleries and into the community.
About the December 2014 Preview
Residents can experience a preview of art outside the galleries from Dec. 1, 2014 through Feb. 28, 2015 in downtown Akron. The Akron Art Museum has installed a high-quality, framed reproduction of Raphael Gleitsmann's painting Winter Evening across from Lock 3 and the Akron Civic Theatre, offering a modern-day view of the scene as the artist might have viewed it. The installation is a preview of a new public art project called Inside|Out, which will have a full launch in 2015, and will bring reproductions of artwork in the museum's collection to neighborhoods around the city.
Gleitsmann, an artist who lived in Akron for most of his life, painted Winter Evening in the early 1930s, depicting a bustling winter scene in a lively downtown Akron. Some of the buildings in the painting are still standing today, including the city's first skyscraper, now known as the FirstMerit Tower. Because of the placement of the installation, across from the historic Akron Civic Theatre, viewers will be able to put themselves in the artist's point of view and compare the scene to how it appears today. Visitors who attend popular downtown winter events will be able to make connections to the scenery and relate to the people illustrated in the painting.
Winter Evening has been installed as a part of the announcement of Inside|Out where the museum will take 30 high-quality reproductions of artwork from the museum's collection and place them in the streets and parks of the city of Akron and surrounding areas. Ten to fifteen framed images will be placed in individual communities, often clustered within bicycling or walking distance, to enable residents to discover art in unexpected places.
"We believe that everyone deserves a quality art experience. We're thrilled to share our art collection with the community," says Akron Art Museum Executive Director and CEO, Mark Masuoka.
"It's one thing to experience the Akron Art Museum's world-class collection, and entirely another to come across it in your neighborhood. That element of surprise can be the spark that gets the community talking about and engaging with the one of the city's true treasures," said Dennis Scholl, vice president of arts at Knight Foundation.
What's Next in 2015
The next series of Inside|Out reproductions will be installed in six neighborhoods and communities in two three-month periods: three for spring/summer and three for summer/fall exhibitions. The museum will encourage the communities to plan activities that will accompany their Inside|Out exhibitions and to visit the Akron Art Museum to see the real artwork. Exact images and placements are to be determined but will be announced on the Akron Art Museum's website (AkronArtMuseum.org) and Facebook page (facebook.com/AkronArtMuseumOfficial).
2015 Communities and Outdoor Spaces
Spring (April – mid July)
Downtown Akron
North Hill
Towpath Trail & Summit Metro Parks
Fall (August – October)
Cuyahoga Falls
University of Akron & University Park
West Hill & Highland Square
Inside|Out is funded by The John S. and James L. Knight Foundation.
Related Links:
[
Take a Journey to the Past with Inside|Out
] [
Art Installations Engage Community (Akron Beacon Journal)
] [
Museum Bringing Art to Community with Inside|Out (West Side Leader)
]