Tony Feher, Judith Resnik, 2014, painter's tape, 134 x 88 in., Commissioned by the Akron Art Museum
Opening Party on Friday, April 11
Tony Feher, Untitled, 2009, mylar blanket, binder clip, 19 x 17 x 12 in., ACME., Los Angeles, Photograph by Robert Wedemeyer
Tony Feher, Round Things with a Hole in the Middle Most of the Time, 1990– (ongoing), glass jar with plastic lid, found objects, dimensions variable, Photographs by Adam Reich, courtesy of The Pace Gallery
Tony Feher, Long Term Pillow, 1997, sand mix, plastic flowers, 7 1/4 x 15 x 14 in., Collection of Christopher D'Amelio, New York, Photograph by Adam Reich
Tony Feher, Sharadiant, 2000, mop and broom handles, rope, 1 1/4 x 97 inches in diam., Photograph by Jason Mandella
Tony Feher, Enjoy, 2001, plastic soda cases, 77 7/8 x 75 x 75 in.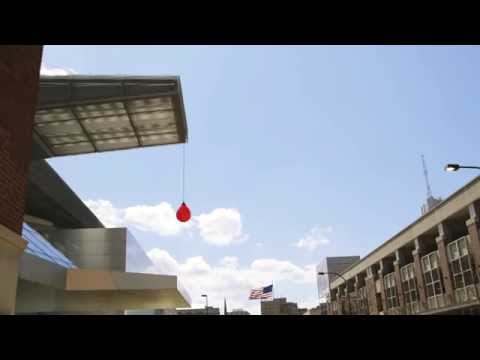 Tony Feher
April 12, 2014 - August 17, 2014
Covering 25 years of Tony Feher's art, the exhibition will feature the range of everyday materials Feher employs, from bottles filled with colored water to marbles and pennies, Styrofoam blocks, soft drink crates, plastic bags, paper cups and various packing materials. Although Feher's materials can be seen as banal—even throwaway—they are chosen specifically for their distinct visual and structural qualities as well as for their connection to people. Feher stacks, arranges, dangles and aligns his materials to form fluid lines, thoughtful rhythms and bursts of color and light. His art enables us to observe and appreciate the beauty and poetry in the ordinary objects that surround us or simply look at things anew.
Tony Feher has been organized by the Blaffer Art Museum at the University of Houston.
Its presentation at the Akron Art Museum is generously supported by the John L. and James S. Knight Foundation, Toby Devan Lewis and the Ohio Arts Council.